PPG SEAL GRIP® EXTERIOR
ALKYD UNIVERSAL PRIMER/SEALER
Our best professional interior / exterior alkyd primer formulated to meet the performance requirements of residential and commercial markets. SEAL GRIP® Interior/Exterior Alkyd Universal Primer/Sealer provides both excellent adhesion to a wide range of surfaces and stain blocking over a variety of common stains including water, nicotine, smoke, ink, markers, and wood tannin stains. It can be recoated in 4 hours, and unlike other fast dry oil primers, it is suitable for all exterior surfaces.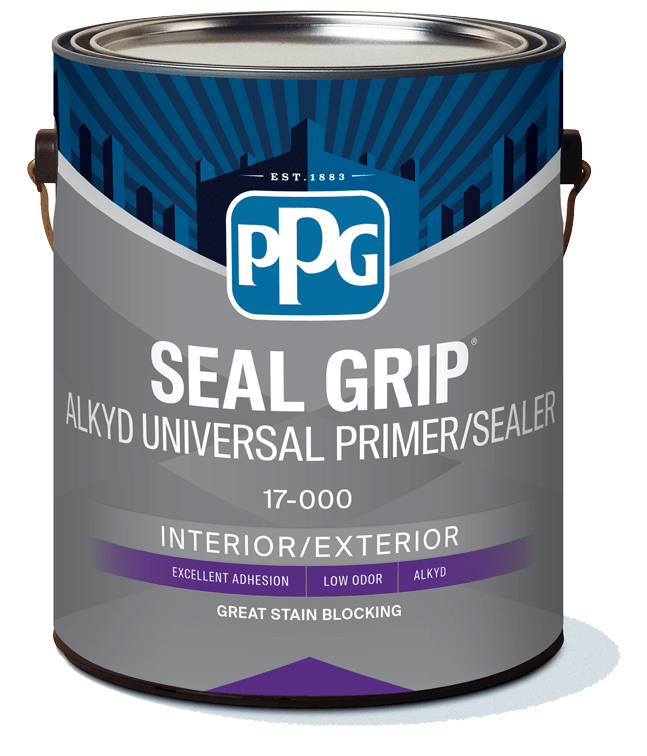 Features
Interior/exterior formula
Excellent adhesion
Low odor alkyd
Stain blocking
Great for fire and water damage
Benefits
Whole house primer
Adheres to a wide range of substrates
Less than traditional alkyds
Great at blocking out most stains – water, smoke, ink, markers, and tannin's
Perfect for restoration use
Where to Use
Wood
Concrete
Masonry Units
Gypsum Wallboard
Drywall
Plaster
Concrete Masonry
Fiber
Cement
Hardboard
Brick